Robotic vacuums are the talk of the future. Imagine how convenient it would be to use a device that you could program to clean by itself?
In a Fox News feature, all the details of how these robotic devices worked were discussed. To give you more insight into how these vacuums  work, and why they are so useful, we thought we'd share some of what was talked about in the episode.
In order to provide you with some more information, here is our summary of the episode, with some key points. This includes a quick review of three Robot vacuum gadgets:
Robotic Vacuums on the Market Right Now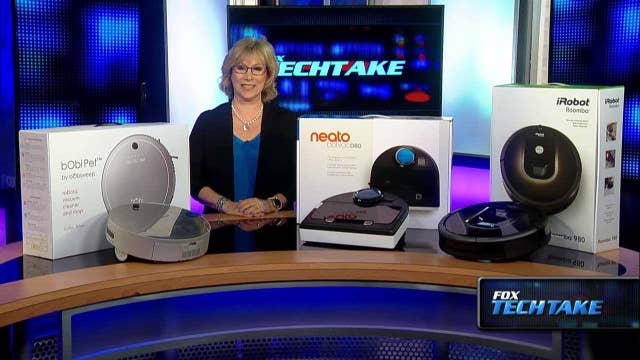 1. iRobot Roomba 980
The iRobot Roomba 980 is the most advanced of the robotic vacuums on this list, as it is app enabled. This means that you can set up a schedule and a timer, all from your smartphone! As far as convenience goes, this is hard to beat.
Other features of this device include being able to get into hard to reach places, as well as mapping sensing technology and surface sensing technology.
Mapping technology means that the device can be programmed to clean certain areas. Additionally, sensing technology means that the device can be programmed to have different kinds of suctions for varying surfaces, which has been an issue with robotic vacuums in the past.
What is wonderful about this is that you don't even have to think about where the device is going to go. Since it is all pre-programmed, you can just set it all up and let the machine do the work.
All of these features do come with a hefty price tag, but although this is the most expensive option, it is also seen as the easiest to set up. With this kind of efficiency, it could be worth the investment.
2. Neato Botvac D80
The Neato Botvac D80 is a much more affordable option. However, the less expensive price tag also means that the device is not app enabled, as opposed to the model above.
This isn't the end of the world, especially for those of us who aren't too tech savyy. However, this does mean that all programming needs to be done manually on the machine on a small screen with your finger. If you don't manage to figure it out, this could prove to be a challenge, especially when the machine is shouting at you to put it down!
Despite not being app enabled, what this device does offer is a decent amount of suction ability for pet hair and dust. What is more, the D-shape of the machine actually makes it better for getting into corners, which is one of the plus points of this model. As you can imagine, moving in and around a household can be quite difficult, so the better the design is for maneuvrability, the better.
Overall, this device offers decent suction power and can get into hard to reach places, but it might be a bit of a challenge to set up.
3. bObi Pet Robotic Vacuum Cleaner
What is great about this particular bObi pet robotic vacuums model is that it is a bit smaller than the other options above. This makes it much easier for it to get under furniture, just like your pets!
As the name suggests, this machine is great for pet hair, and is even popular with pets themselves, which have been known to chase after the machine.
To avoid any mishaps with pet food, or falling down the stairs, the device does come with virtual block setup.
Therefore, you can set up where the machine can go. As with the two models reviewed above, this machine can also be programmed to clean on its own, which is extremely convenient.
One downside to this device is that it is also not app enabled, but it does come with a remote control. This might not be as convenient as using your phone, but it is better than having to use a small screen.
Top Rated Robotic Vacuums
Image
Title
Price
Prime
Buy
iRobot Roomba 690 Robot Vacuum-Wi-Fi Connectivity, Works with Alexa, Good for Pet Hair, Carpets, Hard Floors, Self-Charging

Prime

Buy Now On Amazon
Neato Botvac D80 Robot Vacuum for Pets and Allergies

Prime

Eligible

Buy Now On Amazon
eufy by Anker, BoostIQ RoboVac 15C MAX, Wi-Fi Connected Robot Vacuum Cleaner, Super-Thin, 2000Pa Suction, Quiet, Self-Charging Robotic Vacuum Cleaner, Cleans Hard Floors to Medium-Pile Carpets

Prime

Eligible

Buy Now On Amazon
Product prices and availability are accurate as of the date/time indicated and are subject to change. Any price and availability information displayed on [relevant Amazon Site(s), as applicable] at the time of purchase will apply to the purchase of this product.
Prices pulled from the Amazon Product Advertising API on:
Conclusion
The robotic vacuums reviewed above are just some of the options available on the marketplace. In fact, there are many different varieties on sale, it all depends on what your priorities are.
If you have a large budget, going for the iRobotic might be a good choice, since you can program it from your smartphone. However, if you are looking for something more affordable, the Neato or bObi are also good choices.
In particular, the Neato is known for being able to fit better into corners, and the bObi is better at getting under furniture.
Either way, whichever of the above machines you decide to invest in, you'll be getting a tech savvy vacuuming device. Therefore, cleaning will be much more convenient and efficient either way!
Therefore, to answer the initial question in the title, robotic vacuums could indeed be the "clean sweep" of the future.
Related Articles:
Roomba 690 vs 890 Comparison and Reviews
The Housmile Robot Vacuum Cleaner Review
(Visited 66 times, 1 visits today)